Who is EMR
EMR, LLC is a national engineering firm located in Annville, KY. It is owned by the chief engineer, Eric Engell. Eric graduated from the Pennsylvania State University in 1983 with a Bachelor of Science in Mechanical Engineering. He performed his EIT in Texas, became registered and formed his own firm in 1992. He moved his firm to Kentucky in 1999.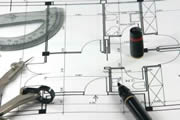 EMR offers complete electrical and mechanical engineering services. We specialize in air conditioning, heating, plumbing, electrical, and site plans.
The engineers are registered in 47 States and the District of Columbia and are currently in the process of filing for registration in Nevada.
Our mission is to provide clients across the United States with Electrical and Mechanical Engineering services for commercial businesses with our specialized, highly-skilled team working together, using smart business sense and twenty years of experience in the field.
EMR Engineers
Ph. 606.364.2886
Fx. 606.364.5100
Mailing:
PO Box 213
Annville, KY 40402
Shipping:
4236 HWY 3630
Annville, KY 40402
Office Hours
Monday — Thursday
8:00 — 5:00 EST
Friday
8:00 — 12:00 EST